WE NEED GREAT VOLUNTEERS!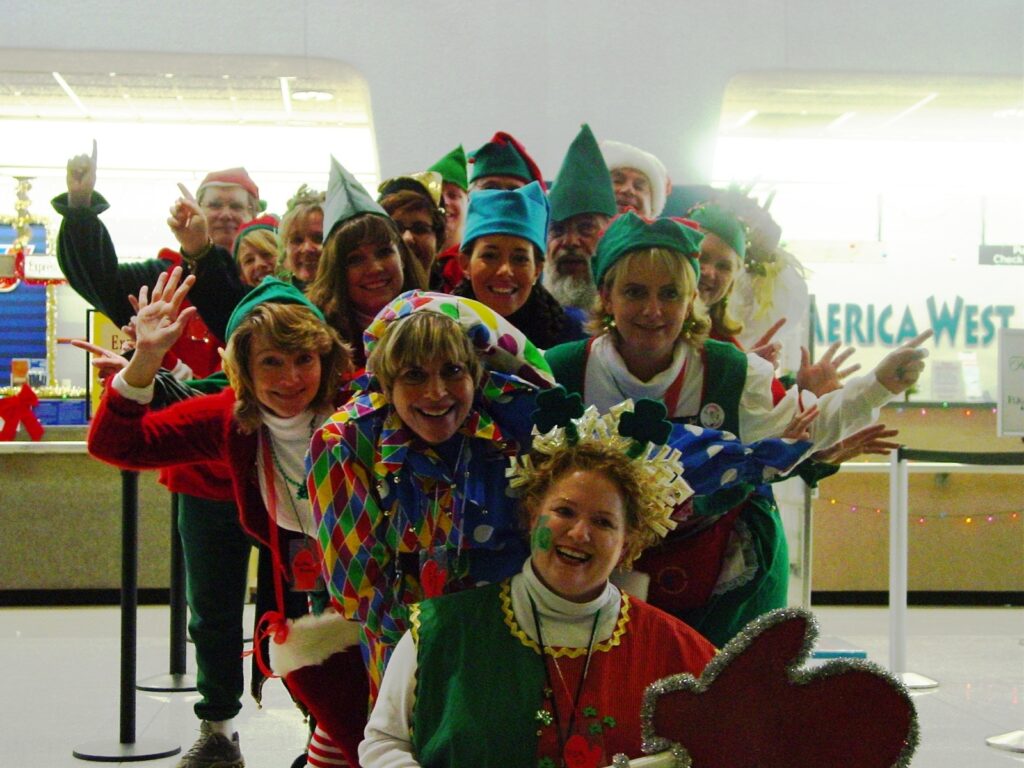 Thank you for your interest in joining our elf population. ANYONE who assists our charity as a volunteer becomes an elf. Our Winter Wonderland Guards are elves … even Mrs. Claus is an elf! Not all elves wear costumes though most have an abundance of glitter in their spirit! Sometimes there is so much that it spills out on the carpet. You know it when you see it!
Volunteer Requests
Since we have NO PAID EMPLOYEES, we operate 100% on volunteers. WE NEED GREAT VOLUNTEERS!
We are looking for the next leaders for Northwest North Pole Adventures, the non-profit entity that hosts the Spokane Fantasy Flight and various other events throughout the year.
If you have administrative, technical, or accounting experience, we have immediate openings!
WebMaster (WordPress)
Social Media Administrator (Instagram, Facebook, etc)
Volunteer Administrator (Configio)
CRM Administrator (NonProfitCore)
Accountant (NonProfitCore)
Auction Technical Support (Onecause)
Email Communications (iContact)
Event Volunteers
All volunteers enroll through our elf portal. Once you have an active account, you will be able to enroll in all the various events throughout the year as they become open for enrollment. Always keep your email up-to-date! The portal is open all year long, though events for application open and close various times throughout the year.
PLEASE mark these emails addresses as SAFE in your email application (Outlook, Gmail, etc.)
All volunteers are required to sign disclaimers and releases based on the event.
We STRONGLY recommend our volunteers request membership in our PRIVATE Facebook Group
Auction Volunteers
Our 6th year auction event is our PRIMARY Fundraising event. Enrollment for this event opens in June each year. This year's event is September 23rd and will require at least 30-40 volunteers!
Spokane Fantasy Flight
Our 27th year and largest world-renown event!
There has been a waiting list for 1st year volunteers requesting a costumed role for the past 15 years.
DO NOT BE DISCOURAGED! If you are waitlisted, you will have a higher priority among new applicants if you apply the 2nd year.
It is RARE that a 1st year elf will be assigned the "escort elf" role with a child.
Open enrollment for this event begins late August / early September each year. Watch our PRIVATE Facebook page for bulletins and updates. There is usually a notification email sent, too. If this email goes to your Junk or Spam folder, then it is not marked safe.
IMPORTANT TO UNDERSTAND: ENROLLMENT is different than ASSIGNMENT
ENROLLMENT: A submitted application as a volunteer for an event. This is ALWAYS the first step!
ASSIGNMENT: The application has been validated, accepted, and ASSIGNED a position in the event. This includes (when applicable):

Background Checks
TSA No-Fly/Terrorism checks
Alaska Airlines/Horizon Airlines Employee Assessment Check
Signature Flight Support Employee & Facility Assessment Check
Availability of roles based on NNPA experience, presented skills (medical, photography)
Ability to meet all disclosure requirements

Assignments (when applicable) for a volunteer may change many times prior to the event due to many reasons … but mainly other volunteer participation changes.
IF YOU HAVE ANY QUESTIONS, please contact us!